Orthokeratology In Melbourne
Are you interested in correcting your vision problems without glasses or permanent contact lenses? Are you concerned about the long-term effect of myopia, including cataract and glaucoma complications?
At Eyedentity, our optometrists will assist you with these concerns through Orthokeratology. Melbourne patients can take advantage of this contact lens-based treatment to correct myopia, astigmatism, and other vision problems while they sleep.
If you're interested in learning more about Orthokeratology, Melbourne residents should visit us in Elsternwick or Carnegie, or book an appointment online today.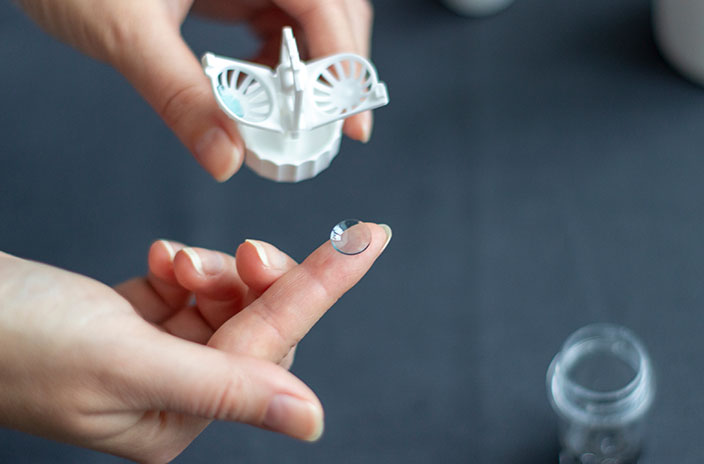 ORTHO K LENSES
Ortho K lenses are gas permeable contact lenses that are worn overnight. Simply by wearing these contact lenses, patients can reshape their cornea, correcting near-sightedness and other vision problems.
Offering Ortho K lenses in Melbourne, the team at Eyedentity will walk you through the benefits and applications of Orthokeratology at our clinics. Come and visit us today to learn more about Ortho K lenses in Melbourne or read on below for more details about Orthokeratology.

CAll: 03 9569 9609
ORTHOKERATOLOGY – WHAT IS ORTHO-K?
Ortho-K, or Orthokeratology, is a simple and non-surgical alternative to glasses, daytime contact lenses and laser surgery. Orthokeratology is also one method that can be utilised for effective myopia control. At Eyedentity, we will fit you with customised, firm contact lenses to temporarily reshape your eye's cornea while you sleep.
The result is clear vision during the day, making your day hassle-free, whether it is at school, work, home or on the sports field. When it comes to Ortho-K, Melbourne residents can trust our team to explain and deliver effective Orthokeratology correction options.
HOW DOES ORTHO-K WORK?
Ortho-K contact lenses have a unique design, which generates pressure in the thin layer of tears under the contact lens. This gentle tear pressure, rather than the lens itself, is responsible for the subtle change in corneal shape.
The cornea is highly elastic and will return to its original shape if Ortho-K lenses are not worn on a regular basis. For this reason, Ortho-K lenses are worn every night to maintain the re-shaping effect once the desired cornea shape has been achieved.
HOW LONG DOES IT TAKE FOR ORTHO-K TO START WORKING?
When you choose Eyedentity for Ortho-K in Melbourne, you can expect to see improvements within the first 48 hours, with maximum vision correction achieved within the first two weeks of wearing Ortho-K lenses.
Ortho-K is a safe, easy and reversible alternative that corrects your vision without any permanent change to your eyes. Although Ortho-K lenses are firm, they are designed using highly breathable materials, allowing your eyes to breathe even while you sleep.
IS ORTHO-K SAFE?
As with all contact lenses, regular check-ups and good lens hygiene are essential to ensure that you maintain healthy vision while also getting the most out of your Ortho-K lenses.
However, Orthokeratology is completely safe. This means no more dry eyes in the classroom and no more broken glasses or lost contact lenses.
IS ORTHO K SUITABLE FOR KIDS AND TEENS?
Not only is Ortho K suitable for children, we often find that children make the best Ortho-K wearers. This is because they are highly motivated and learn how to take care of their lenses quickly, even in users as young as five.
The lenses are placed on the eyes right before bed. The mild sensation disappears as soon as the eyes are closed for sleep, so children aren't afraid to wear the lenses. Ortho-K lenses are very successful for slowing down the progression of myopia and are now the first choice for myopia control.